The Arthur Ross Gallery is proud to announce a gift of $125,000 from Susan T. Marx, CW'66, to endow the Susan T. Marx Distinguished Lecture Series in perpetuity. Established in 2015, the Marx lectures feature significant art world leaders and artists who address timely issues in the arts.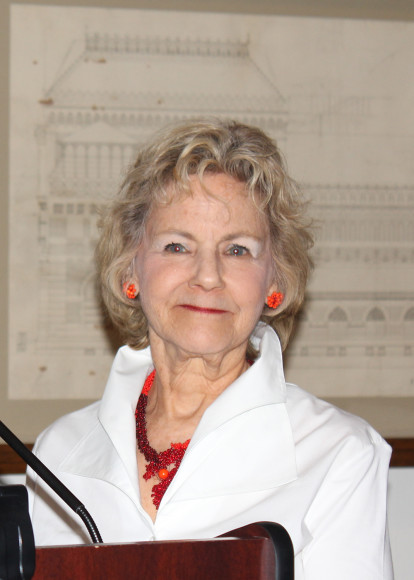 "Thanks to this thoughtful support, the Susan T. Marx Distinguished Lecture Series will continue to enrich our campus as globally prominent museum leaders, artists, and scholars share their knowledge and perspectives," said Penn President Amy Gutmann. "We are grateful to Susan Marx for enabling us to continue inviting the Penn and greater Philadelphia communities to our fantastic Arthur Ross Gallery to explore the cross-disciplinary and cross-cultural connections made possible through art."
Through this annual lecture series, Marx and the Arthur Ross Gallery seek to inspire Penn students across disciplines to develop an interest in or a passion for art. The lectures will be presented at the Arthur Ross Gallery, University of Pennsylvania, or virtually. It is hoped that the lecture series will continue to bring prominence to the Arthur Ross Gallery and the University.
"On behalf of the Arthur Ross Gallery, I am delighted to celebrate this transformative gift that will continue to bring exceptional artists and museum professionals to campus for years to come. I graciously thank Susan Marx for her passion and vision, and I am honored to make the Arthur Ross Gallery the permanent home for the Susan T. Marx Distinguished Lecture Series," said Lynn Marsden-Atlass, Arthur Ross Gallery Executive Director.
Marx is the CEO of S.T. Marx + Associates, a development consulting company focused on private sector grant seeking for non-profit organizations. After working at a variety of agencies which included the Legal Aid Society and Recording for the Blind, she founded the company in 1980. Since that time, her company has raised millions of dollars from foundations, corporations, and individuals for the benefit of social service, health, education, and arts organizations.
"Because of the success of its first five years, I have decided to endow the annual Lecture Series at the Arthur Ross Gallery," said Marx. "While a student at Penn, my exposure to art inspired my passion and my lifelong avocation as a sculptor and stone carver. When we initiated the series, our goal was to share aspects of the art world with students, the University at large, and the outside community."
The Gallery has welcomed acclaimed artists throughout the years. In the Fall of 2016, Dr. Johnnetta B. Cole inaugurated the Susan T. Marx Distinguished Lecture. Subsequent speakers have included David C. Driskell, Jaume Plensa, Liliana Porter, and most recently, William Kentridge.
"We succeeded in attracting working artists of international renown, a
Museum Director and an Art Historian for a growing and appreciative audience,"
added Marx. "I am thrilled to be able to endow our Lecture Series at the
Arthur Ross Gallery. Giving to something you love is a wonderful pleasure. I
feel privileged to be able to ensure its continuance for future
generations."
Marx is a cum laude graduate of the University of Pennsylvania and attended the New York University School of Law.
In 2008, Marx received the Alumni Award of Merit from the University of Pennsylvania for her outstanding service – the highest honor bestowed by Penn Alumni.
Marx also served as President of the Penn Club of New York (from 2012– 2018). She spearheaded a year-long celebration of the Club's 20th Anniversary, with a successful membership drive, revitalization of programming and member benefits, and a renewed sense of community.
She currently serves on the Arthur Ross Gallery Advisory Board and on the Directors Council of The University of Pennsylvania Museum of Archaeology and Anthropology.
Marx is a member of the Trustees' Council of Penn Women (TCPW) at the University of Pennsylvania. She has been the Council's Fundraising Committee Chair and has co-chaired its Grants Committee. This Committee considers myriad requests and awards grants, which have made a lasting impact on student initiatives, faculty retention, and the quality of life on campus. She currently serves as the Co-Chair of TCPW's Emerita Committee. She also served on the Advisory Board of the Field Center for Children's Policy, Practice and Research at the University of Pennsylvania.
She served as a long-time member of the Board of Women in Development, New York, and facilitated its strategic planning retreat. Marx also served on the Board of Transfair, USA, an organization that works toward community empowerment for farmers and consumers in developing regions through fair trade product certification. In her spare time, Marx is an avid sculptor and stone carver.
For more information, please contact Sara Stewart (sabrady@upenn.edu) at the Arthur Ross Gallery.