Gallery Staff
Gallery Front Desk: 215.898.1479
Great staff and friendly guards
– from our visitor book
Emily Zimmerman
Interim Director of Exhibitions and Programs
Email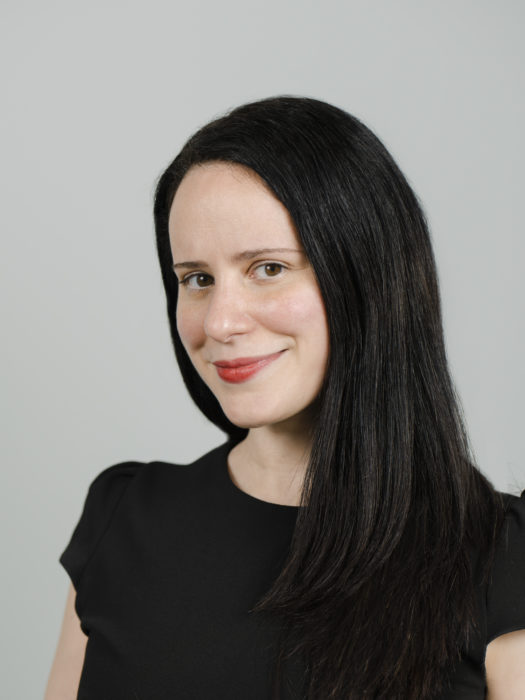 Emily Zimmerman (she/her) is the Assistant Director/Assistant Curator at the Arthur Ross Gallery at the University of Pennsylvania. Most recently she was the Director + Curator of the Jacob Lawrence Gallery at the University of Washington, where she advocated for artists using an expansive intersectional lens to advance racial and gender equity and worked with students to become active participants in today's arts ecology. Prior to joining the Jacob Lawrence Gallery, Emily served as the Associate Curator of Programs at the Henry Art Gallery, where much of her work focused on building institutional partnerships and off-site programming. She began her curatorial career as the Assistant Curator at the Experimental Media and Performing Arts Center (EMPAC), organizing film and lecture series, and commissioning new work from artists. She has curated over 50 exhibitions and commissions with artists such as Kerry Tribe, Clotilde Jiménez, Danny Giles, and others. She has also organized lecture and film series, performance festivals, and workshops.
Emily's writing has appeared in BOMB and Contemporary Performance, and she has served on review panels for the National Endowment for the Arts, Creative Capital, New York State Council on the Arts, Artist Trust, 4Culture, among others. Emily earned her MA from the Center for Curatorial Studies at Bard College and her BA from New York University.
Sara Stewart
Interim Director of Development and Marketing
Email
Sara Stewart handles the development and marketing including public relations for the Gallery. She also manages fundraising events and grants and assists with exhibition preparation. Sara is an active participant in the arts, currently serving on the Board as Director of Development for The Stagecrafters Theater in Philadelphia. She has also curated art exhibitions at Chestnut Hill College, where she received her B.A. in History of Art.
Elizabeth McClafferty
Gallery Coordinator
Email
Elizabeth McClafferty (she/her) is the Gallery Coordinator at the Arthur Ross Gallery at the University of Pennsylvania. She provides administrative support to the Director, Assistant Director, and Associate Director of Development and Marketing, coordinates the Educational Outreach Program Engaging Minds Through Art and the Student Advisory Board and Student Docent programs, and assists with exhibitions.
Most recently Elizabeth served as the Gallery Manager at the Stanek Gallery in Philadelphia, where she began as Public Relations Coordinator in 2018. At Stanek, Elizabeth oversaw the strategic and tactical aspects of over 25 exhibitions and lead collaborations with numerous Philadelphia arts organizations. Prior to her work at the Stanek Gallery, Elizabeth served as the Academic Year Intern in the Department of Prints and Drawings at the Art Institute of Chicago. She has additional experience in archival fields. Elizabeth received her B.A. in Art History and a minor in Visual Arts from the University of Chicago.
Arthur Ross Gallery Advisory Board
Andre Dombrowski, Chairman ·
Anita L. Allen · Benjamin Behrend · Peter Bloomfield · Richard Fitzgerald · Pamela Harper · Lothar Haselberger · Robin Herdon · David Hollenberg · Anne Munch Jensen · Betsy Scott Kleeblatt · Susan T. Marx · Joshua Mosley · Matthew Neff · Sheila Raman · Christine Weller