Governance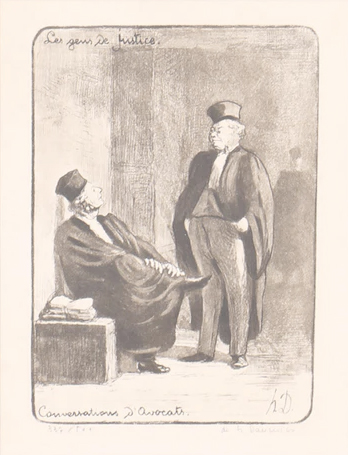 Honoré Daumier (French, 1808 – 1879), Les Gens du Justice: Conversations d'avocats, 1845; Lithograph, 12 x 9 inches; University of Pennsylvania Art Collection; Gift of Irving and Eleanor Segal
Honoré Daumier (French, 1808 – 1879), Les Gens du Justice: Les avocats et les plaideurs, 1845; Lithograph, 8-3/4 x 12 inches; University of Pennsylvania Art Collection; Gift of Irving and Eleanor Segal
Honoré Daumier was a French painter, sculptor, and printmaker during the mid-19th century. He was, and continues to be best known for his satirical caricatures of political figures, King Louis Phillipe, and the government. In 1832 Daumier was convicted and imprisoned for six months for his overt criticism and caricatures of the King.
Daumier's lithographs also critiqued other aspects of French society including the church, lawyers and the judiciary, and the bourgeoisie. Les Gens de Justice: les avocats et les plaideurs was published in the journal Charivari on August 15, 1845. In this print the courtroom scene humorously depicts a lawyer pleading his case to the judges who, in their boredom, are dozing off to sleep.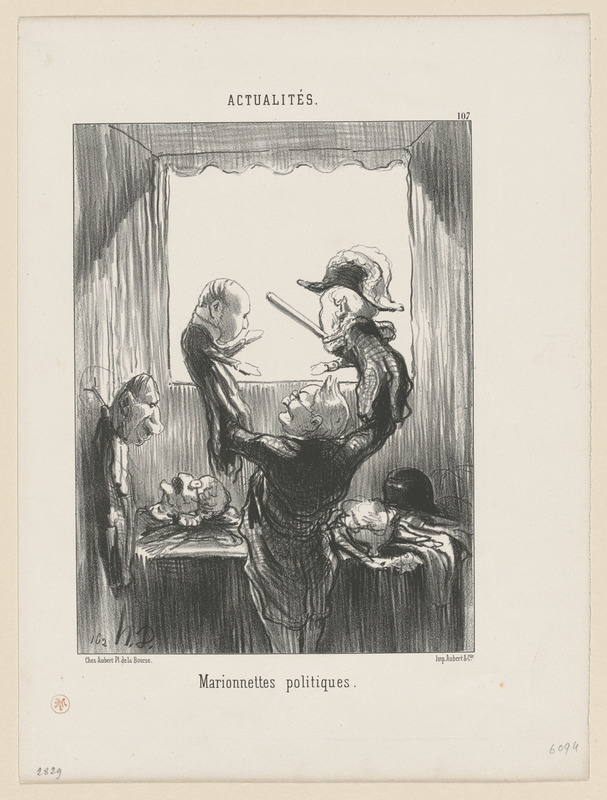 Honoré Daumier (French, 1808 – 1879), Marionettes Politiques, 1857; Lithograph, 8 x 10 inches; University of Pennsylvania Art Collection; Gift of Janet and James Sales
Elliot Erwitt (French / American, born 1928), Jackie Kennedy, Arlington, 1963; Gelatin silver print, 18 x 12 inches; University of Pennsylvania Art Collection; Gift of Warren H. Bree
William Hogarth (British, 1697 – 1764), An Election Entertainment, 1755; Engraving, 22 x 17 inches; University of Pennsylvania Art Collection; Anonymous gift
William Hogarth's Humours of an Election is a series of four paintings, subsequently produced as prints, that illustrate the election of a member of parliament in Oxfordshire, England in 1754. This print shows a tavern scene in which two Whig candidates offer a sumptuous banquet of delicacies and drink to ingratiate themselves to their many supporters. A Tory, from the opposition party, has thrown a brick through the window striking one of the revelers. Hogarth's depiction of bribery and voter intimidation in this series reveals the corruption in 18th century parliamentary elections.