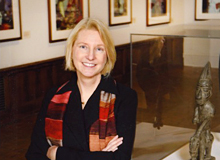 Director's Welcome
I am delighted to welcome you to the Arthur Ross Gallery. I hope you enjoy interacting with this website and return often.
Get to know us; learn about current, upcoming or past exhibitions; see what programs and social events are offered for students and adults; become a Friend and participate in special behind-the-scenes programs; donate, or plan your visit to the Gallery at the University of Pennsylvania; experience the lively Philadelphia art scene.
I invite you to come back often–online and in person. From samba dancing to a symposium, there's always something new.
Lynn Marsden-Atlass
Director and University Curator